Fifty years ago this month, actress Barbara Eden emerged in a puff of smoke from a bottle and helped turn the quiet oceanfront town of Cocoa Beach into a pop-culture landmark.
Eden, 84, rose to fame as a mischievous, 2,000-year-old genie freed by stranded astronaut Larry Hagman in the NBC television sitcom "I Dream of Jeannie," which premiered on Sept. 18, 1965. Set in Cocoa Beach but filmed in California, the hit show ran for five years and 139 episodes, and has been airing on cable and in syndication in the U.S. and abroad for decades.
"It's never been off the air," Eden said of the show in an Aug. 18 phone interview with Senior Life from Beverly Hills, Calif. "I just got back from Ireland and I was shocked that people knew me there. I get fan mail from all over the world, but I never really received any from Ireland. But they know Jeannie."
A Tucson, Ariz., native and former Miss San Francisco, Eden had made numerous film and television appearances — including one as Elvis Presley's leading lady in the 1960 movie "Flaming Star" — when producer Sidney Sheldon, later a hugely successful novelist, cast her as Jeannie.
Sheldon, looking for a show to compete against rival network ABC's successful supernatural comedy "Bewitched," had seen Eden in the 1964 film "The Brass Bottle," which starred Burl Ives as a genie, and came up with the idea for a female genie.
In the show, Hagman played Air Force Captain — later Major — Tony Nelson, an astronaut who wound up on a desert island after his space flight was aborted. He found a bottle on the beach and unwittingly released blond-haired Jeannie who fell in love with him and used her powers of granting his every wish to have him rescued by helicopter. She re-entered her bottle, stowed away in Nelson's gear during the rescue and returned with him to Cocoa Beach.
The pair lived at the fictional address of 1020 Palm Drive. Only Nelson's friend and fellow astronaut, Army Maj. Roger Healy, played by Bill Daily, knew that Jeannie was a genie.
Jeannie's playful antics in her desire to please her "master" and Nelson's fear of being dismissed from the astronaut corps aroused the suspicions of Air Force Col. Alfred Bellows, a NASA psychiatrist played by Hayden Rorke. Bellows was sure that Nelson was either crazy or hiding something, but was never able to prove anything to his superiors.
The show made numerous references to Cocoa Beach, once mentioning Bernard's Surf, a now-closed restaurant that was a favorite hangout of space workers and astronauts. Mountain-dotted exterior shots filmed at Edwards Air Force Base in California substituted for landmarks at Kennedy Space Center and Patrick Air Force Base.
Eden visited Cocoa Beach twice in 1969: once just before the launch of Apollo 11 and a second time with Hagman to publicize an episode in which Nelson married Jeannie.
During her first visit, Eden stopped by a motel where reporters were interviewing Apollo 11 astronaut Buzz Aldrin, who was just days away from becoming the second man to walk on the moon.
"Buzz walked out and just scooped me up in his arms, and he still had his flight suit and all his equipment on," Eden said with a laugh. "It was fun and the press had a field day."
Eden also took part in a launch at Cape Canaveral Air Force Station, pressing a button at Complex 43 that fired a weather rocket into space.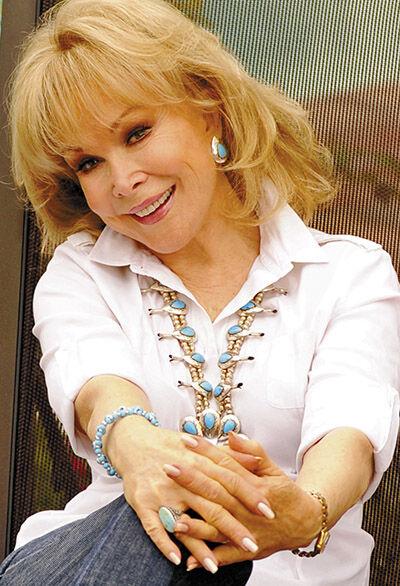 "That was very exciting," Eden said. "In fact, they sent me (a replica of) the weather rocket and I kept it in my back yard for a long time. Larry was very jealous. He wanted that rocket."
Eden's next visit to Cocoa Beach came in 1996, when the city created a special "Jeannie Day" and renamed Primrose Avenue at Lori Wilson Park "I Dream of Jeannie Lane." A historical marker commemorating the show was added at the site in 2012.
Eden toured a space shuttle during her 1996 visit. "They allowed me to put on the boots and the coveralls and go right into the capsule itself, and that was awe-inspiring, just wonderful," she said.
Jeannie Days returned in 2004, 2005 and 2009, although Eden was unable to attend. Events included Jeannie lookalike contests and raffles.
Today, nods to the show can still be seen around Cocoa Beach. "I Dream of Yogurt" at 4295 N. Atlantic Ave. offers frozen treats to beachgoers. And the inaugural Ron Jon Cocoa Beach Half Marathon on Oct. 25 will have a "Jeannie" theme. Runners can dress up like Jeannie and will be awarded medals shaped like Jeannie's famous bottle.
Eden, whose 2011 memoir "Jeannie Out of the Bottle" became a New York Times bestseller, is thankful for the show's enduring popularity.
"It's so fun, it's so much fun," she said. "It's great. Jeannie is very easy to live with."
For more information, go to barbaraeden.com. For a nifty clip with every reference to Cocoa Beach in chronological order during the five seasons the show aired, go to this youtube clip.
---
'Jeannie' marathon
Barbara Eden will will host a 25-hour, 50-episode "Still Dreaming of Jeannie" marathon on Antenna TV starting at 8 p.m.Sept. 19. Go to antennatv.tv for more information.