18th Annual Memorial Day Parade and Tribute
–
Cocoa Riverfront Park
Free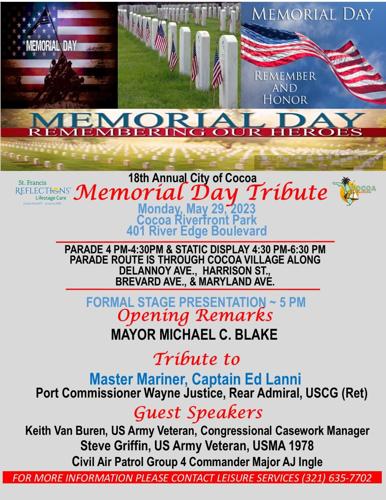 Come out to Riverfront Park in Cocoa Village for the annual Memorial Day Celebration. Every year the City of Cocoa takes time to honor the fallen veterans of war with a Guest Speaker, special Flag folding ceremony, 21-gun salute, the playing of taps, a moment of silence, entertainment and much more.
Parade route is through Cocoa Village along Delannoy Ave., Harrison St., Brevard Ave. and Maryland Ave.
Formal stage presentation is at 5 p.m.
Occurs Monday, May 29th, 2023 @ 4:00 pm – 7:00 pm
Cocoa Riverfront Park
401 Riveredge Blvd.
Cocoa,