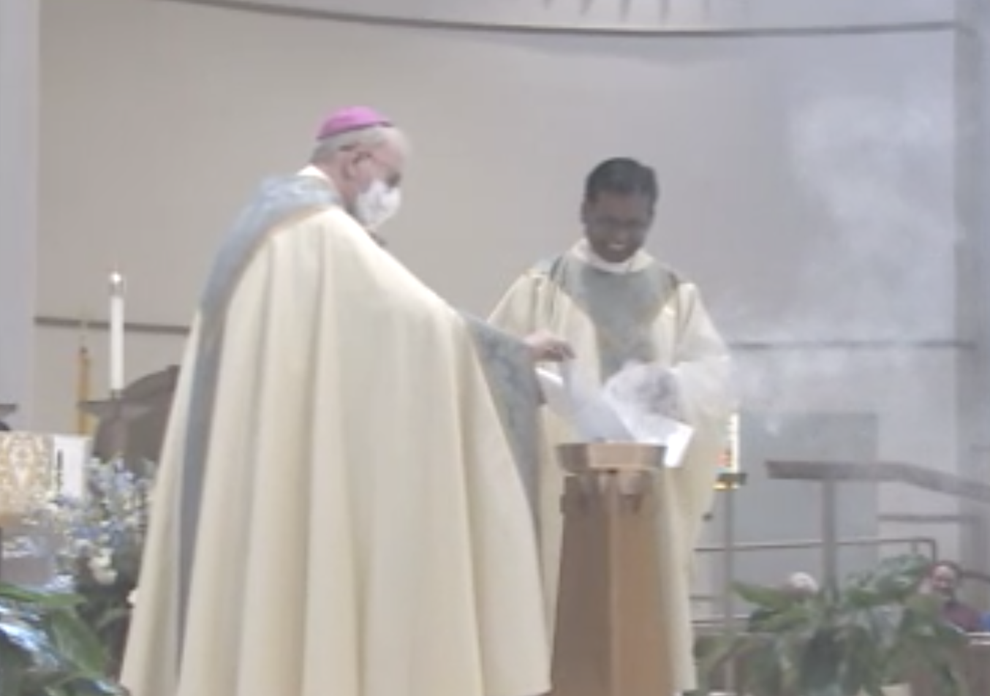 The Most Rev. John Noonan, bishop of the Diocese of Orlando, was part of several ceremonies Sunday, Sept. 26 at St. John the Evangelist Catholic Community in Viera.
Bishop Noonan officially installed Rev. John Britto Antony as pastor of the Viera church, participated in the burning of the church's 15-year mortgage and later blessed the outdoor grounds for the start of several new projects. Project construction begins Monday, Sept. 27.
During the installation ceremony, Father Antony signed a document at the altar signifying his pastor's position and received a set of keys from Bishop Noonan.
The mortgage was burned toward the end of Mass because the church was able to pay off the balance of its loan and from the Diocese of Orlando for the construction of the new church in three years. The current loan from the diocese was in the amount of $110,866.01.
Father Antony said the Master Plan Development Project is divided into two phases:
Phase 1: Connector road to Lake Andrew Drive; handicap parking/drop-off improvement in front of the courtyard; new hardscape in front of the church; two covered pavilions in front of the church; covered walkway connector; covered drop-off on the east side of the church, and new well for additional watering;
Phase 2: Construction of a Grotto; added Stations of the Cross, and a statue of St. Michael the Archangel.
Antony said the approximate costs of the two phases is $3,105,500. However, as a result of the financial generosity of its parishioners and careful stewardship of the church's finances, the church was able to transfer $1.78 million to these new projects.
"The remaining balance for us to raise is approximately $1,325,500," Antony said. "Please note that due to current labor force issues, the increase in cost of materials and/or non-availability, this final figure could vary. With God's unfailingly goodness and mercy and with your continued support and generosity we will accomplish our goal together."