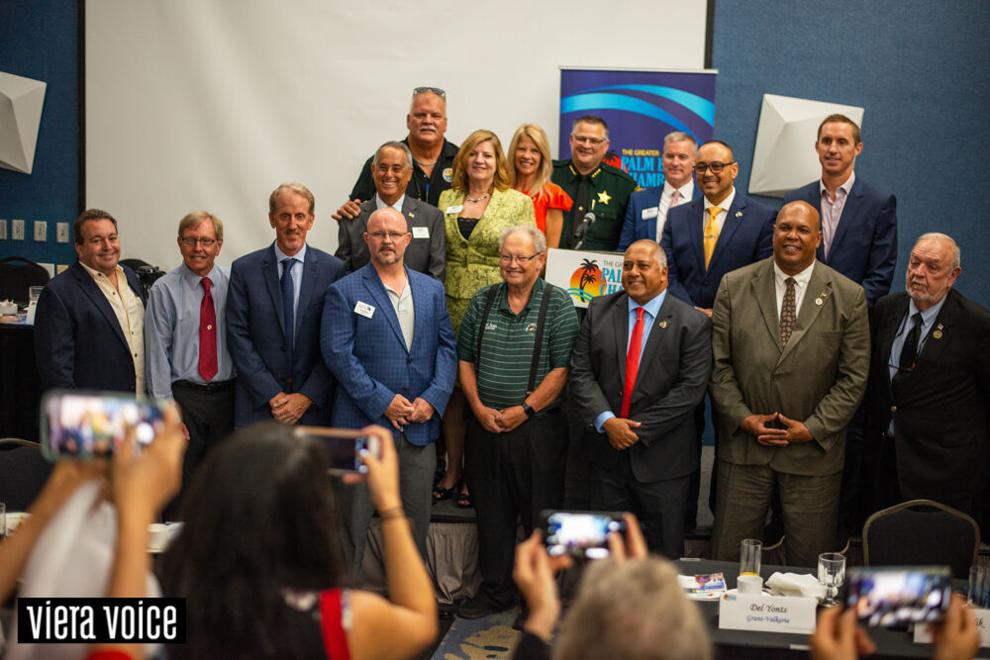 Brevard County Sheriff Wayne Ivey loosened up the crowd with witty banter and a barrage
of jokes.
Poking fun at the mayors turned the 13th annual Mayors Breakfast into a comedic roast. Ivey had everyone laughing with his anecdotes and sarcasm.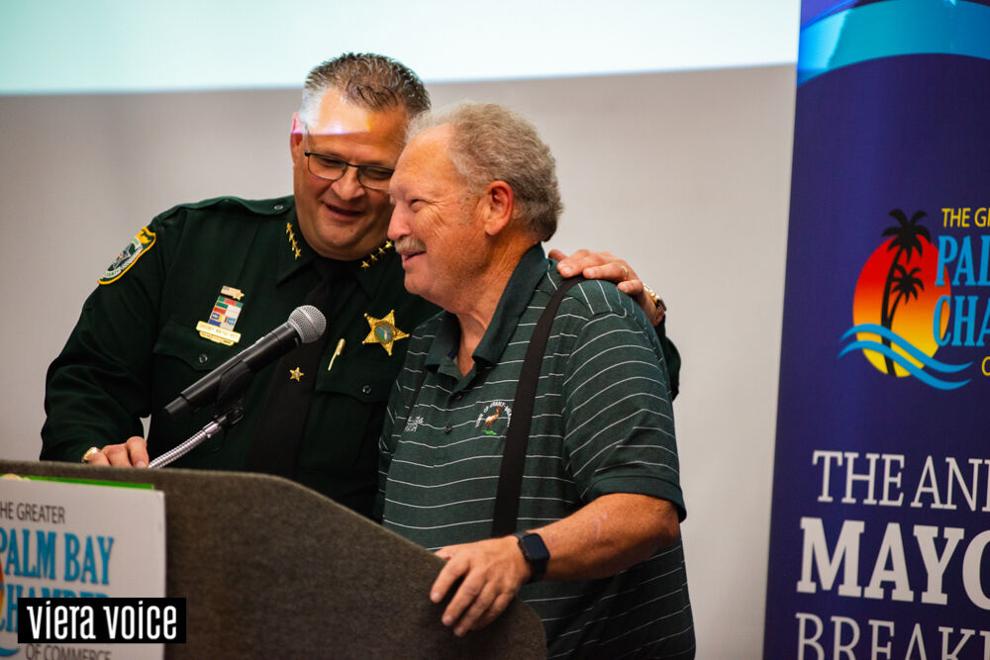 On a serious note, the cleanup of the Indian River Lagoon, housing growth and new businesses dominated the discussion at the Holiday Inn Melbourne-Viera Conference Center on
June 18.
More than 270 people attended the breakfast sponsored by the Greater Palm Bay Chamber of Commerce.
"It's a very informative and fun time for everyone," said Nancy Peltonen, the chamber president and CEO. "It's great to hear what's happening in our communities."
Fourteen of Brevard County's 17 mayors attended the event, including for the first time Col. Edward Marshall, "mayor" of Patrick Space Force Base, now home of Space Launch Delta 45.
Other mayors attending included Bob Hoog of Cape Canaveral; Mike Blake, Cocoa; Ben Malik, Cocoa Beach; Del Yonts, Grant/Valkaria; Dave Berkman, Indialantic; Scott Nickle, Indian Harbour Beach; Pat Reilly, Malabar; Paul Alfrey, Melbourne; Wyatt Hoover, Melbourne Beach; Rob Medina, Palm Bay; Carol McCormack, Palm Shores; Daniel Diesel, Titusville; and Hal Rose, West Melbourne.
Rockledge Mayor Thomas Price gave a video presentation.
State Sen. Debbie Mayfield, who represents the 17th District that includes Indian River County and southern Brevard County, gave opening remarks about the recently concluded session of the Florida Legislature.
"We had an incredible session," she said. "We had a lot of Zoom calls and texting during this pandemic, but we came out and accomplished so much."
Although the COVID-19 pandemic forced many municipalities to shut down or curtail services, many mayors told the audience about their accomplishments during the past year. One area many mayors talked about was the Indian River Lagoon and their efforts to clean it up.
"We have got to stop putting crap into the lagoon," Malik said. "Water quality is the most important thing we have."
Alfrey said Melbourne is trying to deal with its homeless issue. "We are thinking outside the box," he said. "We have moved nearly three dozen people from homeless to housing."
During a break, Alfrey gave an update about the new dog park and children's playground at Woodside Park in Viera.
Alfrey said the project should be completed and opened in August. "The permit process has been extended," he explained. "Things were delayed because of the children's playground."
The park, which will have state-of-the-art technology, is part of the Viera East Community Development District. 
Medina said his goal in the coming year is to increase accountability and transparency with the public.
"I want to make Palm Bay proud," said. "We're open for business."
Blake said he hopes Florida's new Brightline train service puts a terminal in Cocoa. "It would be a big boom to our economy," he said.
Blake also praised the city's "liquid gold" — water. "We (Cocoa) are the 11th largest distributor of water in Florida," he said.
In his video presentation, Price said the Barton Boulevard corridor is seeing new growth with several new businesses. "Development is rampant in Rockledge," he said.
Diesel said it is the first time in six years a Titusville mayor has attended this event. "Our city is changing," he said. "Titusville is no longer the town east of Orlando and south of Daytona. We are Brevard."
The chamber also recognized many of the event's sponsors: 
Platinum: Waste Management, Melbourne Orlando International Airport, Florida, Power and Light Co., and WorkMagic.
Gold: Florida Institute of Technology, L.H. Tanner Construction and Sollensys.
Silver: City of Palm Bay, Buena Vida Estates, Health First Health Plans, Vitas Healthcare, Spectrum Reach and Beachside Connections.
For more information about the Greater Palm Bay Chamber of Commerce visit GreaterPalmBayChamber.com or call 321-951-9998.