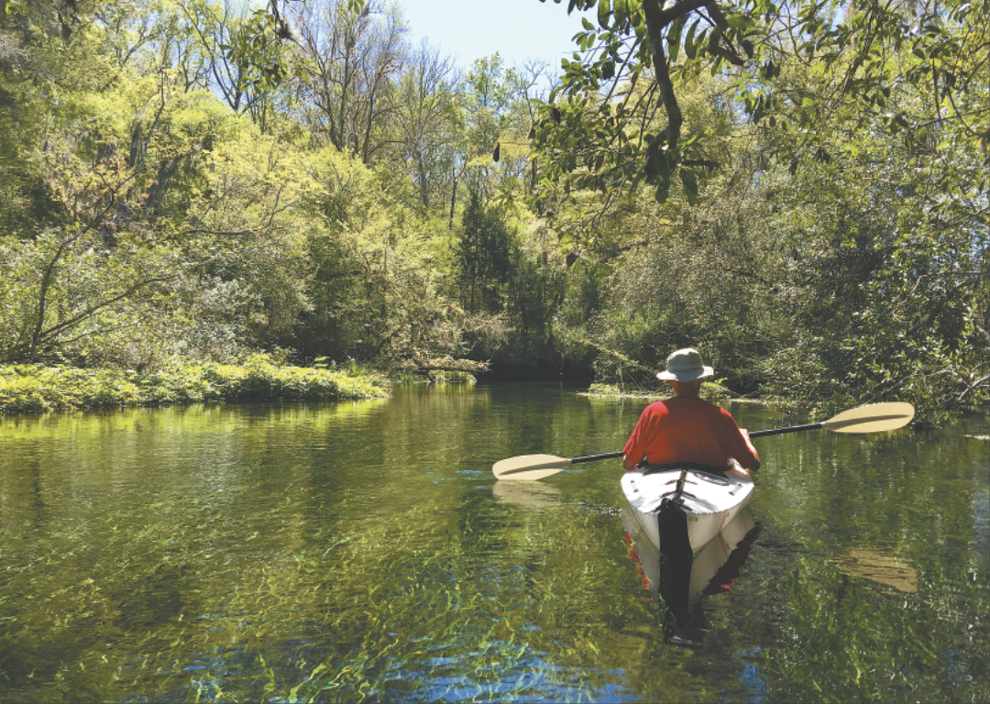 Senior Life Shutterstock
A kayaker paddles along calm waters at Spring Park
This month, you will be introduced to a diversified, interesting and educational group of stops on historic  U.S. 17 in North Central Florida. These stops have something for everyone. 
Take Interstate 95 north to exit 265 and then State Road 44 West to the city of DeLand. Start your visit to DeLand by exploring the outstanding campus of Stetson University on Woodland Avenue. DeLand Hall, which houses the office of the president and the offices of other administrators, was constructed in 1884 and is the oldest building in Florida in continuous use for higher education. The university is named after the noted hat maker John B. Stetson. Stetson University provides information sessions and campus tours  at 9 a.m. and 1 p.m. Monday through Friday and at 9 a.m. Saturday during the academic year. For more information, call 800-688-0101.
The Henry DeLand House Museum is a wonderful museum full of memorabilia, period furnishings, collections and photos of the city in the late 19th and early 20th centuries. It is at 137 West Michigan Ave. Call 386-740-6813. It is open Tuesday through Saturday. It offers guided tours for a modest admission charge.
Following your visit to DeLand, drive north on U.S. 17 a short distance to the De Leon Springs State Park. The Visitor Center exhibits feature the park's 6,000-year history.
Starting with the Native American mound builders, through the 1960s attractions era and the waterskiing elephant. A touch table with bones and shells, DVDs on the spring and river, park photo albums, rocking chairs and children's area. There's something for everyone. You can ride the Fountain of Youth Echo History Tour Boat and let Captain Frank fill you in on the history, flora and fauna of the area. Tour boat excursions are available every day at 11 a.m. and 1 p.m. except on Sunday. Call Captain Frank at 386-837-5537.
The Old Spanish Sugar Mill and Grill is located inside the De Leon Springs State Park Recreation Area. Their tables are equipped with a griddle and the restaurant brings you pitchers of homemade pancake batters and you pour them on the griddle. You flip them over right at the table when done. You can order blueberries, bananas, peanut butter, pecans, chocolate chips, apples or applesauce to create whatever sort of pancakes you choose. The mill restaurant also has a full breakfast and lunch menu. It is open seven days. Call 386-985-5644.
Your next stop on U.S. 17 North as it crosses State Road 40 is Barberville.  Here you will visit the Pioneer Settlement for the Creative Arts.
The site has evolved into an outstanding village of 17 historic structures. The centerpiece of the campus is the original Central High School of Barberville (c. 1919), a National Register Places site. Other historical buildings and artifacts that would otherwise have been destroyed have been relocated to the grounds. Others are reproductions of 1900-era buildings, which house particular collections. The settlement maintains a growing historical collection of more than 10,000 objects and features two exhibition and educational venues, six annual festivals, daily tours and frequent programs and workshops. Pioneer Settlement for the Creative Arts, Inc. is located at 1776 Lightfoot Lane in Barberville. For information, call 386-749–2959 or email info@pioneersettlement.org. It is open from 9 a.m. to 4 p.m. Monday through Saturday. There is an admission fee.
Continue on your scenic trip on U.S. 17 North passing farm country and the small communities of Pierson and Seville. When you arrive in Crescent City on delightful Crescent Lake, visit the historic Sprague House Bed & Breakfast Inn. The inn is a magnificent steamboat gothic bed and breakfast inn built in 1892 and is footsteps from Crescent Lake. You may want to stay overnight. The inn also has a restaurant called Waters Edge. Call 386-698-2707.  Sprague House Bed & Breakfast Inn is located at 125 Central Ave. in Crescent City. For information, call 38- 698-2622. 
Continue on U.S. 17 North and travel through the small and interesting communities of Lake Como, Pomona Park and Satsuma — all farm country. Ferns are the big crop in this area. Stop at a local stand that sells ferns, plants, veggies and view the many varieties.
Arriving in Palatka on the St. Johns River, your first stop should be the Putnam County Chamber of Commerce at 1100 Reid St. on the corner of 11th Street. Call 386-328-1503. Tour its new visitors center. I would suggest visiting the century-old home of Judge Isaac Bronson at 100 Madison St. Open during weekdays and weekends. I suggest calling ahead. For information, call 386-329-0140. There is no charge. 
 Palatka showcases more than 31 painted murals across historic buildings. Don't miss the Palatka South and North Historic Area that encompasses 12 blocks. 
Off U.S. 17 (Reid Street), the historic area fronts the St. Johns River and River Street. All the buildings in this area were built in the 1800s and early 1900s. The city also hosts the annual Florida Azalea Festival and is near the well-known Log Cabin Winery, south of Palatka. 
Your next stop should be Palatka's Ravine Gardens State Park. Here you will learn that thousands of years ago this ravine was created by swift water flowing from the sandy ridges on the shore of the St. Johns River. Today, this 60-acre park is a combination of formal and natural gardens. You can walk around the trail on the top of the ravine 
and view the extensive gardens. 
A great time to view the Ravine Gardens is during the peak flowering period, the azalea season, from late January to April. They also transformed the ravine into a formal garden with an extensive trail system. Ravine Gardens State Park is at 1600 Twigg St., Palatka. Call 386-329-3721. It is open year-round. 
The last stop on our U.S. 17 tour is Green Cove Springs on the St. Johns River. Many folks call the city "The Saratoga of the South." Start by visiting Spring Park, a beautiful compact park located along the St. Johns River. In the park, you can view the active natural spring that boils up from a large fissure that is more than 20 feet below the surface. 
You can then take a walking tour of the nearby Green Cove Springs Historic District.
This is the Clay County Historic Triangle located on Walnut Street and State Road 16.  
The district contains 78 historic buildings from the 19th and 20th centuries. Here you can visit the 1875 County Courthouse, The Old Jail, The History Museum and The Old Train Depot. The museum features an old country kitchen with early tools, a wood cooking stove, and many kitchen and laundry utensils and implements. There also is an Old Country Store that displays a grocer's scale, antique cash registers and a very old wood store counter.
The Historical Railroad Room is filled with a collection of early railroad memorabilia. Outside, view an original red caboose, an authentic railroad building, and a crossing gate with signals. Clay County Historical Museum is at 915 Walnut St. Call  904-284-9644. 
This U.S. 17 highlights trip meets all my requisites. It is educational, inexpensive and has something worthwhile for the entire family and out-of-town guests. 
Before you go to any of these destinations, please call ahead for any changes, safety updates and limited hours. Florida state parks are requiring facial covering; swimming at reduced capacity and social distancing is in effect.