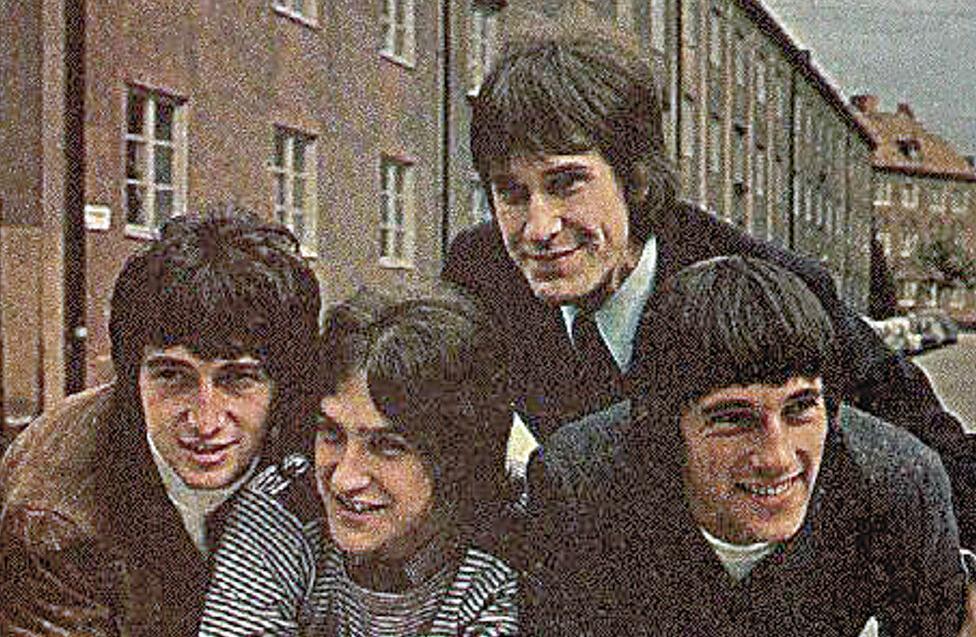 The Kinks enjoyed a promotion day in Stockholm, Sweden on Sept. 2, 1965.
In June 1970, during a 24-hour break in the Kinks' touring schedule, leader Ray Davies jetted from New York to London and back — a 6,000-mile round trip — in order to change a mere two words in the band's latest Arista Records single.
It wasn't that the controversial song "Lola" concerned a man romancing a transvestite, but the fact that Davies had committed a UK faux pas in his opening lyrics:
I met her in a club down in old Soho
Where you drink champagne and it tastes just like Coca-Cola
C-O-L-A Cola …
The problem? The public-owned BBC (British Broadcasting Corporation) didn't allow the use of brand names in recordings. Thus, Ray was required to switch the trademarked Coca-Cola name to the generic cherry cola in order to ensure airplay in his native country.
According to legend, Davies composed the work after he and record producer friend Robert Wace had gone to a Paris — not London — nightclub. Wace, reportedly a heavy-duty imbiber, was said to have begun moving on a sultry woman there, enjoying their dances and soon confiding to Ray, "I'm really on to a good thing here." But Davies thought he detected something odd: the seductive lady, whose name was Lola, seemed to have a bit of chin stubble. Ray decided that Wace was too drunk to notice.
She walked like a woman but talked like a man
From that incident came the first Kinks Top 10 hit in years, their last chart success being the Reprise label's "Tired of Waiting for You" back in 1965 — an eternity in the fleeting world of rock music fame. While the quartet had released numerous excellent 45s in the later 1960s, a return to the Big Time eluded them until the release of their contentious 1970 offering.
In the song, Ray kept the language ambiguous:
I'm glad that I'm a man and so is Lola
And listeners who paid attention to Davies's lyrics could never be sure of Lola's sex:    
Girls will be boys and boys will be girls
It's a mixed-up, muddled-up, shook-up world
Due to its risqué allusions, the tune was banned in Australia but did become a No. 2 hit in Britain, a No. 9 smash in the United States and a Top 10 success in 11 other countries. 
Ray Davies often took credit for the entire song: "I wrote 'Lola' to be a great record, not a great song. Something that people could recognize in the first five seconds."
Actually, his brother Dave — and fellow Kink — wrote the music, with Ray adding the wry lyrics afterward. During the recording sessions, four or five versions were attempted, with different keys being tried as well as various overall styles. 
In 1985, Weird Al Yankovic created a "Lola" parody that he dubbed "Yoda," which featured lyrics about the iconic "Star Wars" character. 
While "Lola" became one of the Kinks' most appreciated concert pieces, it would be another 13 years before the band would enjoy its final Top 10 hit single, "Come Dancing."