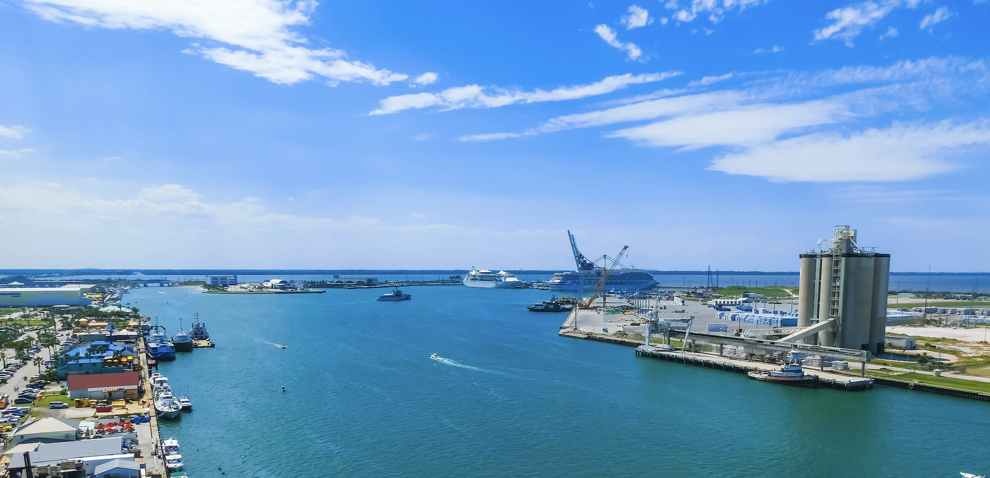 Florida Gov. Ron DeSantis on Friday called for the federal government to allow passenger-filled cruise ships to sail from Florida's struggling seaports by the end of June.
During a roundtable discussion at Port Canaveral's new Cruise Terminal 3 that included State Attorney General Ashley Moody, State Department of Transportation Secretary Kevin Thibault and executives from five major cruise lines, DeSantis questioned the legality of the "national lockdown" that has idled cruise ships and said he and Moody have considered legal action if the Centers for Disease Control and Prevention doesn't lift its conditional sail order that's in effect through Nov. 1.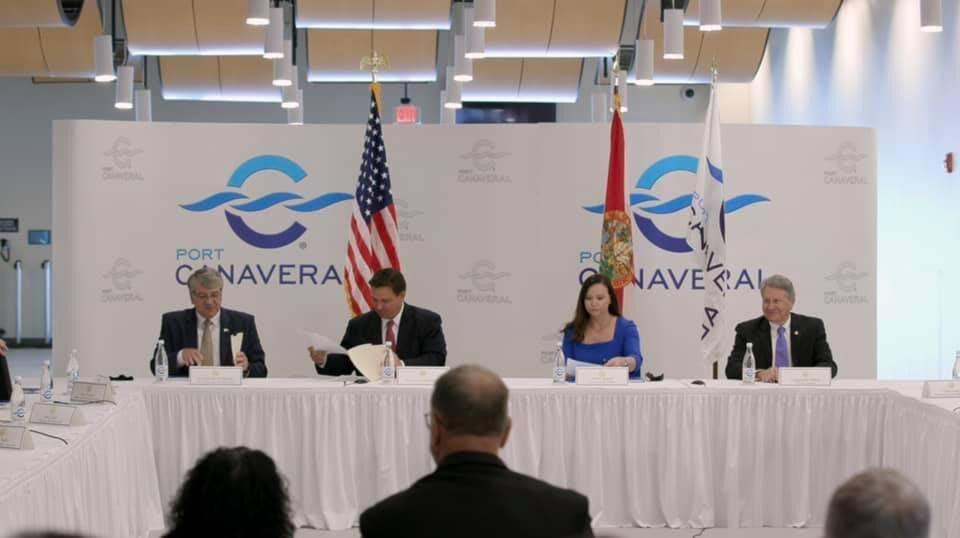 "If there is one thing we've learned over the past year, it's that lockdowns don't work, and Floridians deserve the right to earn a living," DeSantis said. "The cruise industry is essential to our state's economy and keeping it shut down until November would be devastating to the men and women who rely on the cruise lines to provide for themselves and their families. I urge the CDC to immediately rescind this baseless no-sail order to allow Floridians in this industry to get back to work."
The CDC shut down the cruise industry in March 2020 after COVID-19 outbreaks occurred on several ships. In October, it issued guidelines with 74 points that cruise lines must address before paying customers can return. But cruise line leaders say they're frustrated with the DCD's lack of guidance to help the crippled industry resume sailings and are anxious to resume discussions.
Moody said the CDC's ban is based on "outdated data" and guidelines established before COVID-19 vaccines were discovered.
"The federal government is acting outside its authority in singling out and docking the cruise industry while other tourism-based businesses continue to operate in accordance with health guidelines," Moody said. "This heavy-handed federal overreach is harming our nation's economy and is especially damaging to Florida's economy and our vital tourism industry."
A September 2020 report from the Federal Maritime Commission estimated that during the first six months of the pandemic, losses in Florida due to the cruise industry shutdown totaled $3.2 billion in economic activity, including 49,500 jobs paying $2.3 billion in wages. In addition, Florida suffered wide-ranging indirect impacts throughout the state – from airports and ground transportation to hotels, restaurants, and tourist destinations.
At Port Canaveral, the world's second busiest cruise port behind PortMiami, the lockdown has cost the Port nearly 80 percent of its revenue and 43 percent of its workforce. Friday's meeting took place in a $155 million terminal complex that will be the homeport of Carnival Cruise Line's new LNG-powered cruise ship Mardi Gras, but passengers have yet to pass through the completed facility.
DeSantis recommended earlier this month that the Florida Legislature provide Florida's seaports with nearly $260 million in relief funds from the state's share of the American Rescue Plan Act of 2021.
A CDC spokesperson said the agency is following a phased approach to resuming cruising in order to mitigate the risk of spreading COVID-19 and is working on the next step.
Meanwhile, some cruise lines have launched sailings in Asia and Europe and have scheduled cruises though the Caribbean, bypassing Florida ports.
"If you say they can't sail in the U.S., people will still be taking cruises," DeSantis said. "Instead of flying to Orlando, or here, or Fort Lauderdale, you'll have people fly to the Bahamas and other places. So the activity won't be any different; it's just going to be detrimental to states like Florida that have so many people who depend on this industry for their livelihood.
"We absolutely need a way forward."