Brevard County residents are expected to turn out from July 2 to 4 to celebrate the 246th anniversary of the nation's independence, and the adoption of its Declaration of Independence by the Continental Congress on July 4, 1776.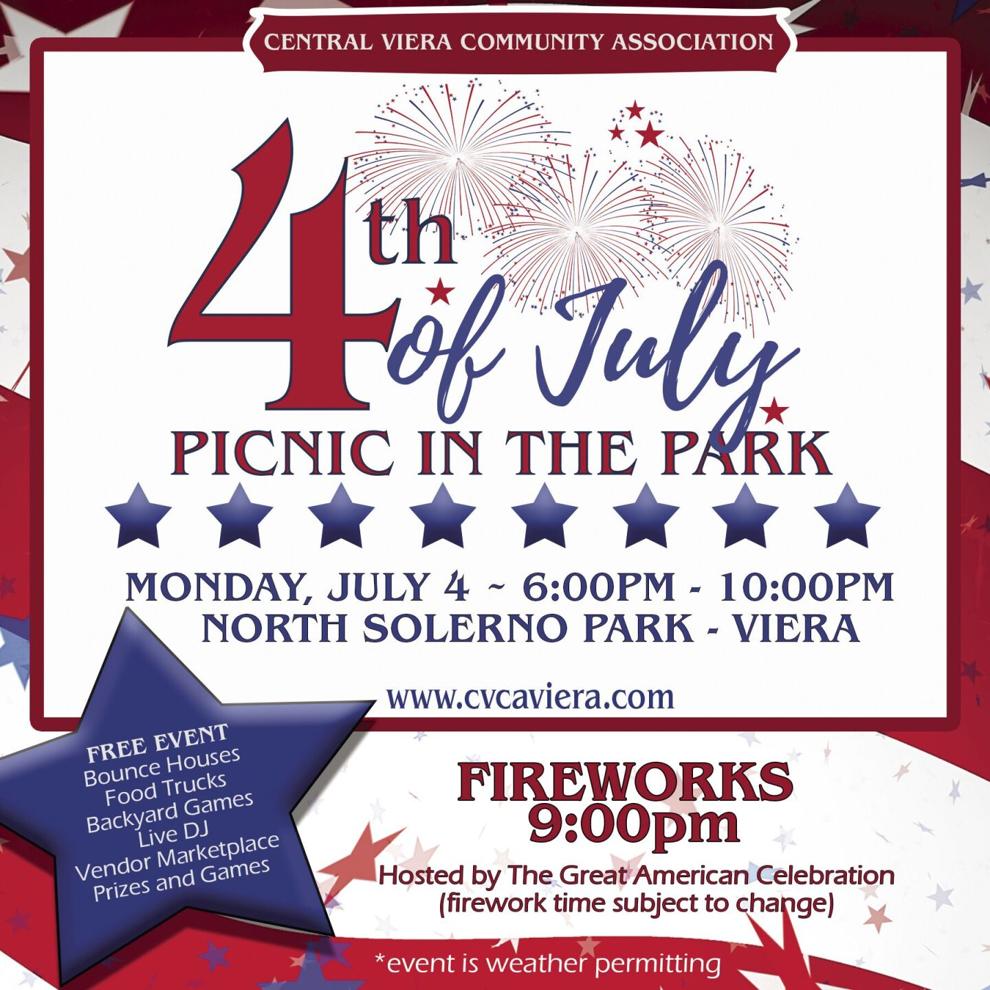 Here is a listing of events:
Viera: July 4
Plan for fireworks at the Great American Celebration starting at 9 p.m. east of the USSSA Space Coast Complex, 5800 Stadium Parkway.
Suntree: July 3
Stars and Stripes starts at 4 p.m. at Suntree United Methodist Church, 7400 N. Wickham Road with a patriotic celebration with activities on the lawn for children, a free dinner of hamburgers and hot dogs, pasta salad, chips, cookies and lemonade. At 6:30 p.m., it moves indoors with a concert of patriotic favorites, featuring the Melbourne Municipal Band and the Suntree United Methodist Chancel Choir.
Palm Bay: July 2
The city's Independence Day Celebration will be held 5 to 9 p.m. at Eastern Florida State College at 250 Community College Parkway SE. Look for food trucks, vendors, music and a kids' zone, capped off by fireworks about 9:15 p.m.
Port Canaveral: July 2
Fireworks over the Harbor at The Cove in Port Canaveral starts at sunset.
Port St. John: July 2  
Thunder Over the Indian River Independence Day celebration will start at 4 p.m. at the Orlando Utilities Commission Plant, 7800 U.S. 1, with fireworks at 9:15.
Cocoa Beach: July 3 
Smoke on the Water, Fire in the Sky fireworks display starts at dark at Sidney Fisher Park at 2200 N. Atlantic Ave.
Cocoa: July 4
Symphony under the Stars, performed by the Brevard Symphony Orchestra, starts 8 p.m. at Cocoa Riverfront Park at
401 Riveredge Blvd. Fireworks over the Indian River begin at 9:15 p.m. Food will be available for purchase. Bring lawn chairs or blankets.
Melbourne: July 4
A Fireworks Celebration, MelBOOM, will start at approximately 8:10 p.m. at Front Street Park at 2205 Front St., with a skydiving show, followed by fireworks at 9 p.m. Food trucks will be on hand. Attendees are encouraged to park at Melbourne Auditorium at 625 Hibiscus Blvd. and ride a free shuttle to the event.
Merritt Island: July 4
The community's Independence Day Parade starts at 10 a.m. at Merritt Island High School at 100 Mustang Way.
Rockledge: July 4
The city's 35th Independence Day Picnic will take place from 10 a.m. to 2 p.m. at McLarty Park, 790 Barton Blvd. Look for fun, music and a hot dog or hamburger lunch with a drink for $1.
Titusville: July 4
Red, White and Boom over North Brevard will take place from 7 to 10 p.m. at Chain of Lakes Park at 2300 Truman Scarborough Way in Titusville with fireworks at 9:15 p.m.  VV